The CITROËN Activa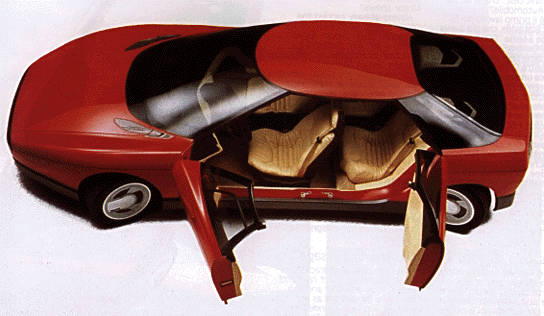 On the 1988 Paris Motor Show, Citroën presented the Activa prototype. Activa was the first project under the then new leader of the Citroën Design Centre, Mr. A. H. Blakeslee. The following few paragraphs, describing somewhat more in detail the Activa, were taken from the Journal Auto & Design 52 .
The styling message
The car body is characterized by an extremely short rear end that acts as a spoiler and can therefore be defined as a smooth and very rounded two and a half-box shape. This lack of balance in the passanger space towards the rear end gives rise to a pleasingly asymmetrical look, suggesting a feeling of forward thrust and adding a touch of pep to the monotony typical of today's concept-cars.

The pillars are completely hidden by flush glazing made with the contribution of Saint-Gobain, major manufacturers of polycamber glass. I addition, Activa has allowed itself the luxury of eliminating B-pillars, with back doors that open upwind. Certainly not a new idea, considering that it was Vincenzo Lancia's favorite architecture, but still, an interesting one and quite a plus for accessibility.

Far from the spacial Cd of Eole, Activa has much more earthly figure of 0.25, good but nothing exceptional on a concept car that is 4750 mm long, 1900 mm wide and 1270 mm high. There are no real bumpers. At the front, just above the spoiler that changes position and aerodynamic load in accordance with speed changes, we find the complex-surface headlamps, small in size but big in power, developed in cooperation with Valeo.

Four holes front and rear are not styling doubts but sensors, drowned in the fenders, that act as radar singling out any obstacles that fall within a 1.4 meter distance of the vehicle and quickly informing the driver through the instrumentation.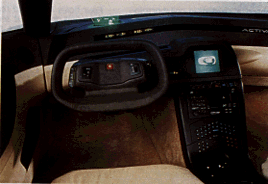 On opening the doors you'll discover an environment with four comfortable seats. The steering wheel is an attention getter with its non-circular but aeronautical cloche-like shape closed at the top. The "chevron" concept exudes from a number of details, from the shape of the dashboard to the arrangement of the push-buttons on the console and the fairing of the rear headrests. The seatbelts are built into the structure of the electrically adjustable seats.
Electronics are everywhere, from the central monitor that combines Minitel with the digital display of the dashboard strip. ... The needle rev counter and digital speedometer can be easily read on the windscreen without taking one's eyes off the road. And all the electronics run through Multiplex wires, the sohpisticated wiring system already tested on the Cadillac Allante.
---
---
So, that was all folks. Back to the Citroën Home Page

.
---

These pages are served by a SUN 3/60 (Grgur) born on 23rd December 1988! (Processor: 20MHz MC68020; Memory: 24MiB)
---
Visit also the Light Art Exhibition Gallery

.